La La Land
2016, PG-13, 128 min. Directed by Damien Chazelle. Starring Emma Stone, Ryan Gosling, John Legend, Rosemarie DeWitt, J.K. Simmons, Finn Wittrock.
A decorous tapping of toes is about all we're allowed in the movie theatre these days. That's a shame considering movies as an art form were built to make us feel, and those feelings are manifest in physical sensation – a laugh, a sob, a nervous flinch at the awesome nearness of an arriving train. With La La Land, a modern musical lovingly stealing looks from the classics, the toe-tapping travels upward, irresistibly, to ghost-animate every limb. It's almost criminal to have to stay in your seat when the contact high of La La Land is goosing you to grand jeté in the aisle. The heart, at least, is at liberty to swell to bursting.
From its dazzling first set-piece, "Another Day of Sun" – choreographed on top of a gridlocked freeway overpass and lensed with supple flair by Linus Sandgren – La La Land sharpens its viewfinder not on the storied City of Stars, but rather on a city of strivers: hopeful actors and writers and musicians lured alike by Hollywood's siren song. The lyrics, by Benj Pasek and Justin Paul, spell out that ambition: "The Technicolor world made out of music and machine/ It called me to be on that screen/ And live inside its sheen."
Mia (Stone), an out-of-work actress ground down by the audition process, is one of these hopefuls, as is unemployed jazz pianist/purist Seb (Gosling), who wants to open his own club. Mia and Seb cross paths in the opening traffic snarl – he lays on his horn, she flips him the bird – in the first of a series of barky meet-cutes. The film doesn't rush their romance, instead following their parallel tracks in pursuit of their dreams. That's time well spent. It gives their inevitable coupling an authentic friction – it's hard to chase a dream with single-minded purpose when you're invested in somebody else's dream, too. That friction has been cinematic fodder almost since movies began. See: The Red Shoes, every version of A Star Is Born; writer/director Damien Chazelle (Whiplash) definitely has. He isn't shy about his influences. La La Land wears them adoringly, and part of the pleasure of the film is in tracing moments and moods backwards: to the wistfulness of Jacques Demy and Michel Legrand's French New Wave musicals, An American in Paris' dreamy ballet, Rebel Without a Cause's monument to the star-dusted Griffith Observatory, Fred and Ginger's playful sparring in Shall We Dance.
Astaire and Rogers were matchless, and La La Land is wise not to try, instead casting two leads with monster charisma, both together and separate. The film plays to their strengths as actors – Gosling's slouchy, haunted cool and gift for finding the joke in his self-serious persona; Stone's delicate, open face that registers every emotion with the exquisite precision of sheet music. They're both talented performers with song-and-dance experience, but they're not classically trained. You can see their limitations, and that slight clumsiness – a breath off the beat, the palpable reach to hit a high note – is what endears them so. Their vulnerableness – that striving – is essential to the story.
The story itself is not especially nuanced; it sounds better if you call it archetypal. Justin Hurwitz's original songs at first struck me similarly – as a collection of B-side standards, exhilarating in the moment but leveled out into sameness as he reproduces snatches of melody throughout the score. And yet – and maybe this is cheating – I've had a screener of the film for three weeks now, and I keep hitting play, even if I'm just doing the dishes, because I want to get back there again, and now I'm waking up humming his melodies and zoning out in traffic remembering how my ear excited to a vibraphone, full strings luxuriating from double stop to pizzicato, two flutes as they herald a reverie.
The flutes remind me of another moment in another movie; it's so close but I can't place it. The magic – and that's the very word for it – of La La Land is to call back without feeling derivative, or sycophantic. We need new stories, and I'm confident this one will be a bridge for new generations, a trail of crumbs back to Vincente Minnelli and Stanley Donen and Powell & Pressburger. But La La Land earns its place in the pantheon as its own special thing, expansive enough to be at once modern and elemental, exuberant and melancholic. "Transportive" is a word critics like to throw around in a generalized sense, but with La La Land that transportiveness has a very specific destination, for me at least. I want to live inside this movie, live inside its sheen, in the dream-space where cinema can let you levitate, even as the real-you stays rooted so polite in your seat.
Showtimes
Sun., Jan. 15
12:20, 12:20
12:20, 12:20
Showtimes at this venue are subject to frequent change. Please confirm daily times by phone or website.
Tuesday matinee Baby Day shows (first show of the day) are intended for parents and their children younger than 6. Showtimes at this venue are subject to frequent change. Please confirm daily times by phone or website.
A note to readers: Bold and uncensored, The Austin Chronicle has been Austin's independent news source for over 40 years, expressing the community's political and environmental concerns and supporting its active cultural scene. Now more than ever, we need your support to continue supplying Austin with independent, free press. If real news is important to you, please consider making a donation of $5, $10 or whatever you can afford, to help keep our journalism on stands.
READ MORE
More La La Land
Producers on creating a city of stars
Richard Whittaker, Dec. 16, 2016
More Damien Chazelle Films
Star-studded, bittersweet love letter to the golden age of Hollywood is cinema maximus
Richard Whittaker, Dec. 23, 2022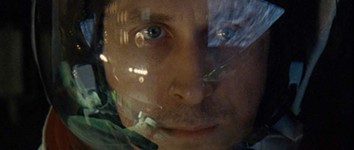 Gosling and Chazelle's moon man biopic soars
Richard Whittaker, Oct. 12, 2018
More by Kimberley Jones
Previewing the 88th Texas Legislature
Jan. 13, 2023
Tom Hanks' "grumpy old man" phase stumbles with this discordant comedy about death
Jan. 6, 2023
KEYWORDS FOR THIS FILM
La La Land, Damien Chazelle, Emma Stone, Ryan Gosling, John Legend, Rosemarie DeWitt, J.K. Simmons, Finn Wittrock
MORE IN THE ARCHIVES